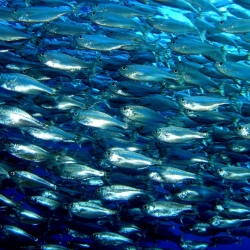 Coral reefs are under threat from rising sea temperatures caused by global warming. But in a recent paper, published in Science, it was found that certain types of coral are able to adapt to tolerate higher sea temperatures by changing the genes they express.

Scientists think this new discovery could be used to devise new ways of protecting coral reefs, as well as improving our predictions of how they will cope with climate change in the future. Known as the "rainforests of the sea," coral reefs form some of the most diverse ecosystems on earth. Despite only covering 0.1 percent of the ocean's surface, they provide a home for 25 percent of all maritime species, including fish, mollusks, and sponges.

Coral reefs are actually deposits of calcium carbonate, the substance found in sea shells. The makeup of any coral reef is complex and consists of microscopic organisms called corals that live together in small colonies known as polyps. Polyps that contain "reef building" coral species are responsible for laying down the calcium carbonate that form the reefs. Corals live together with algae, and this relationship helps coral reefs survive.

But when coral reefs experience stress, such as an increase in sea temperature, they sometimes expel the algae, which results in coral bleaching, a phenomenon in which the coral loses all its color, appearing completely white. This can result in the death of the reef. For example, in 2005, the US lost half of its coral reefs in the Caribbean to a massive bleaching event.

It is already known that some corals are better than others at coping with stress. So Professor Stephen Palumbi and his colleagues at Stanford University in California set out to assess whether coral species have the ability to acclimate to warmer temperatures by increasing their thermal tolerance levels.