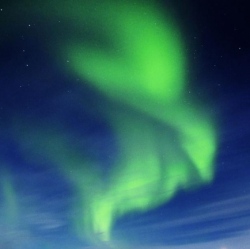 Scientists have found the beginnings of life-bearing chemistry at the centre of the galaxy. Iso-propyl cyanide has been detected in a star-forming cloud 27,000 light-years away. Its branched carbon structure is closer to the organic molecules of life than any previous finding from interstellar space. The discovery suggests the building blocks of life may be widespread throughout our galaxy.

Various organic molecules have previously been discovered in interstellar space, but i-propyl cyanide is the first with a branched carbon backbone. The branched structure is important as it shows that interstellar space could be the origin of more complex branched molecules, such as amino acids, that are necessary for life on Earth.

Dr Arnaud Belloche from the Max Planck Institute for Radio Astronomy is lead author of the research, which appears in the journal Science. "Amino acids on Earth are the building blocks of proteins, and proteins are very important for life as we know it. The question in the background is: is there life somewhere else in the galaxy?"