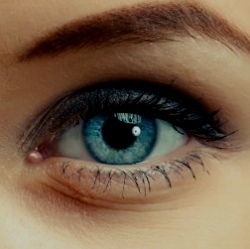 Gadolinium, a contrast agent used to improve MRI imaging, has been shining a light on brain diseases for years, but now scientists from the NIH believe it could reveal even more, After the chance discovery of the transparent chemical leaking into and then lighting up in the eyes of stroke patient MRI scans.

Injected into the blood stream, gadolinium is regularly given to stroke patients for MRI scans, despite concerns that residue was remaining in the brain after scans. It increases the contrast between different structures and fluids, making images clearer and problems easier to diagnose. When a stroke patient has damaged their blood-brain barrier, a membrane which controls which substances can enter the brain from the blood stream, gadolinium leaks into the brain, highlighting the location of brain damage.

In this new study, which performed MRI scans on 167 stroke patients and compared them at different time frames, scientists discovered that gadolinium was also leaking into the eyes.

"It raises the question of whether there is something we can observe in the eye that would help clinicians evaluate the severity of a stroke and guide us on how best to help patients," says Richard Leigh, M.D., the senior author of the paper.

The research involved three scans: without gadolinium when the patients were first admitted, with the chemical after two hours, and then with the chemical after 24 hours. In the two-hour scan, gadolinium lit up the aqueous chamber at the front of the eye, with 66 percent of patients showing leakage.

After 24 hours, this figure had jumped to 75 percent, mostly lighting up the vitreous chambers at the back of the eye. A small number of patients lit up both eye chambers, showing signs of a more severe stroke that affected a larger portion of the brain and caused more damage to the blood-brain barrier.

They discovered that a stroke can also affect the blood-ocular barrier, which controls which substances are allowed into the eyes, potentially providing information about the patient's stroke.

"It looks like the stroke is influencing the eye, and so the eye is reflective of what is going on in the brain," explains Dr. Leigh. "Clearly these results are preliminary, so future studies will have to be attuned to this to fully understand its impact."

The scientists are hoping that in the future, understanding how and why gadolinium leaks into the eye, and what its connection with strokes is, could provide an indication of the severity of a stroke and suggest the best form of treatment. They believe the chemical could be used to quickly get information about strokes by looking to the eye, without patients having to undergo an MRI to scan the brain.

"It is much easier for us to look inside somebody's eye than to look into somebody's brain," says Dr. Leigh. "So if the eye truly is a window to the brain, we can use one to learn about the other."