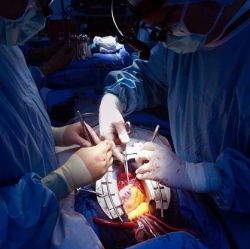 MedGenome licenses a bioinformatics database called OncoMD, which contains more than 1.2 million cancer-related genetic mutations. The funding round was led by Papillon Capital's Kartik Kumaramangalam and Emerge Venture's Mahesh Pratapneni and includes several other individual investors, all data science executives.

"MedGenome is already the leader in the Indian genomics market," says MedGenome CEO Sam Santhosh in a statement today. "The new resources from this investment round will enable us to expand our research and make our tools more widely available to clinicians and hospitals developing personalized treatment strategies for cancer patients around the world."

Health informatics businesses don't lend themselves to 30-second elevator pitches very well. Here's the short version, as explained to VentureBeat by MedGenome investor Dmitri Mehlhorn.

In twins, who have very similar genes, it's easy for genetic researchers to understand the small genetic differences that may have led to cancer in one twin but not in the other. Oncologists might be able to recognize that same genetic mutation in other people as a possible warning sign for cancer. But there are only so many twins to study.