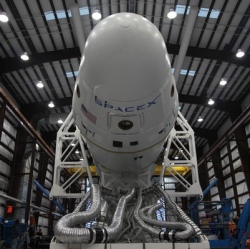 The recent failure of the commercial SpaceX Falcon 9 rocket is a near-term setback. But getting that vehicle back in the air means something more for the tomorrows to come. It means getting down to business concerning the future of America's space program.

I was witness to the Falcon 9's failed flight on June 28. Sitting there at the Kennedy Space Center in Florida, I had a front-row seat to the mishap. However disappointing is the loss of the SpaceX booster and destruction of the Dragon-carrying cargo ship headed for the International Space Station (ISS), it is a teachable moment. I think it punctuates the need for providing more appropriate budgetary funding for commercial space activities.

Why? I believe there's a bigger picture here, one that transforms how we return to the Moon and implant boot prints on distant Mars. U.S. President Barack Obama's administration has helped shape the use of commercial space operators that provide to NASA cargo and crew services for reaching low Earth orbit. Furthermore, the groundwork has been laid for the next administration's potential commitment to further encourage commercial space activities that can spur into reality America's pathway to placing humans on Mars.

But first, there are essential things to remember about the booster business. Let's not forget, it is rocket science! Everyone in the launch business has failures, everyone. SpaceX's track record of achievement with the Falcon 9, 18 consecutive successful flights prior to the mishap, has been notable. I have every confidence that it will learn from this failure and emerge as an even more reliable launch provider.

If the recent SpaceX rocket trouble had been a failure of a government launch, we would dramatically increase funding to find the problem, fix the issue, and get back to flying. NASA's commercial crew and cargo program is our only U.S. option to get astronauts and supplies to the ISS. It must be treated the same way.

Shaving off dollars of the NASA budget on this type of activity is simply not an option if we want to have an American human spaceflight program. NASA's purchasing of commercial crew and cargo space services are proving to be a dramatic cost-savings to the taxpayer compared to traditional programs.

That's the here and now. This is what I envision in the years to come. First of all, low Earth orbit can increasingly serve as an incubator for commercial activities. That could come in the form of private space stations, even the blossoming of public space tourism that can stretch all the way to my old stomping grounds, the Moon.

NASA should be commended for its push to nurture competitive services for launching crew and cargo into low Earth orbit. In fact, the SpaceX Falcon 9 and Dragon capsule are to be modified to ferry crews to the International Space Station. Likewise, NASA is working with Boeing on that company's CST-100 crew capsule. One or both companies are expected to fly astronauts to and from the space station by the end of 2017.