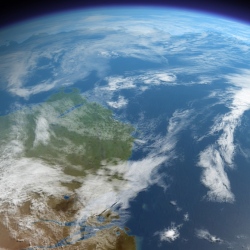 The next phase of NASA's commercial spaceflight effort — known as Commercial Crew Integrated Capability, or CCiCap — calls for these three companies to take their design and testing program through a series of milestones by May 2014. Optional milestones could lead to crewed demonstration flights in later years.

NASA wants to have at least one commercial space taxi carrying astronauts to and from the International Space Station by 2017. The three companies say they can meet or beat that schedule, provided that they continue to receive NASA support.

The coming phase of the spaceship development effort — known as Commercial Crew Integrated Capability, or CCiCap — is aimed at producing the design for an entire launch system, including the "space taxi" capsule and launch vehicle as well as ground and recovery operations. The three companies tapped for future funding already have received hundreds of millions of dollars from NASA during earlier development phases. Boeing has gotten $131 million for work on its proposed CST-100 capsule, Sierra Nevada has been allotted more than $125 million for its Dream Chaser space plane, and SpaceX has won $75 million to upgrade its Dragon space capsule to carry crew.

SpaceX, known more formally as Space Exploration Technologies, has also received almost $400 million from a separate NASA program to support the development of the Dragon and Falcon 9 rocket for cargo deliveries to the space station. The successful flight of a Dragon to the station and back in May opened up the way for SpaceX to start regular cargo deliveries under a $1.6 billion contract with NASA.

Other companies sought unsuccessfully to win CCiCap funding — most prominently, a consortium that included ATK, Lockheed Martin and Astrium. The consortium's Liberty launch system would adapt the ATK-manufactured solid rocket booster that was used for the space shuttle and the now-canceled Ares 1 rocket. The second stage would be based on Astrium's Ariane rocket. The composite capsule would be provided by Lockheed Martin, which is the prime contractor for NASA's more capable Orion deep-space capsule.

Other contenders from previous rounds of development included Blue Origin, which was founded by Amazon.com billionaire Jeff Bezos; and Excalibur Almaz, which is adapting Russian technology for its launch system

NASA officials have said they'd be willing to continue advising the also-rans on an unfunded basis. On the other side of the table, all of the companies involved in the CCiCap competition have said they intended to continue spaceship development efforts even if they didn't win NASA's financial support, but at a reduced pace.

What lies ahead?
Boeing, SpaceX and Sierra Nevada have said their spaceships could be ready for NASA's use in the 2015-2016 time frame if they received adequate funding from the space agency. Last month, Ed Mango, NASA's manager for the Commercial Crew Program, told me that the middle of the decade seemed doable, but suggested that 2015 might be too soon.