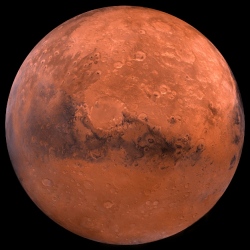 Boeing once helped the U.S. beat the Soviet Union in the race to the moon. Now the company intends to go toe-to-toe with newcomers such as Elon Musk in the next era of space exploration. Boeing intends to be a key player in the initial push to send humans to Mars, maybe even beating Musk to his long-time goal.

"I'm convinced the first person to step foot on Mars will arrive there riding a Boeing rocket," Muilenburg said at the Chicago event on innovation, which was sponsored by the Atlantic magazine.

Like Musk's SpaceX, Boeing is focused on building out the commercial space sector near earth as spaceflight becomes more routine, while developing technology to venture far beyond the moon. The Chicago-based aerospace giant is working with the National Aeronautics and Space Administration to develop a heavy-lift rocket called the Space Launch System for deep space exploration. Boeing and SpaceX are also the first commercial companies NASA selected to ferry astronauts to the International Space Station.

Musk last week welcomed competitors as he unveiled a SpaceX craft that would dwarf the workhorse of Apollo missions of a half-century ago, hauling 100 travelers to Mars with cruise-ship-style amenities.

"The goal of SpaceX really is to build the transport system. It's like building the Union Pacific railroad," Musk told a space conference, as he laid out a plan to bring travel to Mars to a mass market with tickets priced one day as low as $100,000.