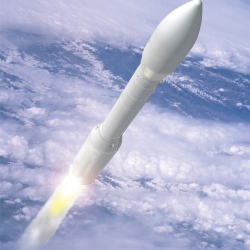 Blue Origin successfully tested the design of its next-generation Space Vehicle, completing a series of wind tunnel tests to refine the aerodynamic characteristics of the spacecraft's unique biconic shape. The tests were carried out as part of Blue Origin's partnership with the National Aeronautics and Space Administration (NASA) under the agency's Commercial Crew Development (CCDev) program. Blue Origin is designing the Space Vehicle to provide safe, affordable transport of up to seven astronauts to low-Earth orbit and the International Space Station.

Blue Origin's next-generation Space Vehicle undergoing wind tunnel tests to refine its innovative biconic shape.

Space.com – Blue Origin is a secretive private spaceflight firm, which was established in 2000 by Amazon.com founder Jeff Bezos, is developing systems to launch astronauts to both suborbital and orbital space. While Blue Origin releases details about its plans and progress sparingly, the company's basic business model has come out.

It all revolves around reusable rockets and spacecraft, developed in incremental steps.

Blue Origin is one of four companies that have received funding through NASA's Commercial Crew Development (CCDev) program, which seeks to spur the advancement of American private spaceflight capabilities. The other three firms are Boeing, SpaceX and Sierra Nevada Corp.

Blue Origin's suborbital vehicle is called New Shepard. New Shepard consists of two reusable parts: a crew capsule and a propulsion module. A few minutes after liftoff, the propulsion module separates and heads back to Earth, eventually making a vertical, rocket-powered landing near the launch site.

The crew module, which is designed to carry three or more people, coasts on to the edge of space before returning to Earth as well, its descent slowed by parachutes.

Orbital: The Space Vehicle

Blue Origin is also working on a manned vessel for orbital flight, a biconic craft called the Space Vehicle (SV).

"This development builds on our suborbital New Shepard crew capsule development," Meyerson said. "The lessons we learn in that program roll directly into the SV, the orbital system development."

Blue Origin is designing a reusable first-stage booster to help get the Space Vehicle to orbit.

Blue Origin doesn't release schedules or timelines of its projected progress. But Meyerson said the Space Vehicle might be ferrying astronauts to and from the space station in less than five years if all goes well.

"In our proposal with the government funding that we laid out, we believe [operations could begin] between 2016 and 2018," he said.