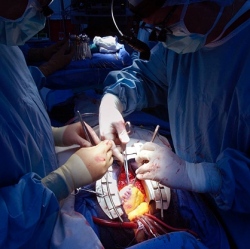 Figures from the National Institute of Health Research (NIHR) show almost 638,000 patients volunteered last year. The rise may surprise some, given the publicity associated with a drug trial at a private research unit at London's Northwick Park hospital in 2006.

That trial – of a potential new drug for arthritis – left six volunteers dangerously ill. A similar increase in volunteers has occurred elsewhere in the UK.

Although many people associate medical trials with healthy volunteers, the vast majority who take part in research are NHS patients testing treatments for their condition.

The chief medical officer, Prof Dame Sally Davies, said she was delighted NHS patients realised the benefits of participation and said they played a vital role in developing treatments.

The increase follows the establishment of the NIHR in 2006. Its remit is to "improve the health and wealth of the nation through research". The organisation, funded by the Department of Health, has increased the amount of patient-focused health research.

Dame Sally said: "We put between 15-20% patients into trials in cancer compared to 2-3% in the United States, so clearly we've managed to get through to the public to explain the advantages of joining clinical research, and the altruistic side of what they are doing for the people that follow them.