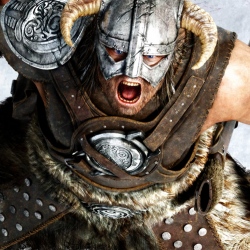 Yesterday we got word from a third party that The Elder Scrolls V: Skyrim sold an impressive 3.4 million copies at retail in its first two days on the shelves. Bethesda Softworks and ZeniMax Media confirmed today that the open-world RPG has enjoyed a stellar first week, and launch units are expected to generate more than $450 million in global sales.

VG Chartz reported yesterday that Skyrim sold 3.4 million copies in 48 hours, excluding digital sales. In a statement issued this morning, Bethesda provided some specifics and a confirmation: TES 5 shipped 7 million units worldwide for launch and sold more than 50% of those in two days.

"We are grateful for the fans' response to Skyrim," Robert Altman, Chairman and CEO of ZeniMax Media, said in a statement. "Todd Howard and his team at Bethesda Game Studios have crafted a very special game. Anticipation for Skyrim has surpassed any game in our company's history, and we are pleased that sales and reviews have reflected the quality and hours of amazing gameplay it provides."

"Without a doubt, this has been our most ambitious project ever," added Todd Howard, Game Director on Skyrim. "After over three years of development, we're finally excited to get it into everyone's hands."

Skyrim's sales numbers put it ahead of Battlefield 3 and at a Call of Duty-like pace — incredible numbers when you consider TES 5 is a hardcore RPG.