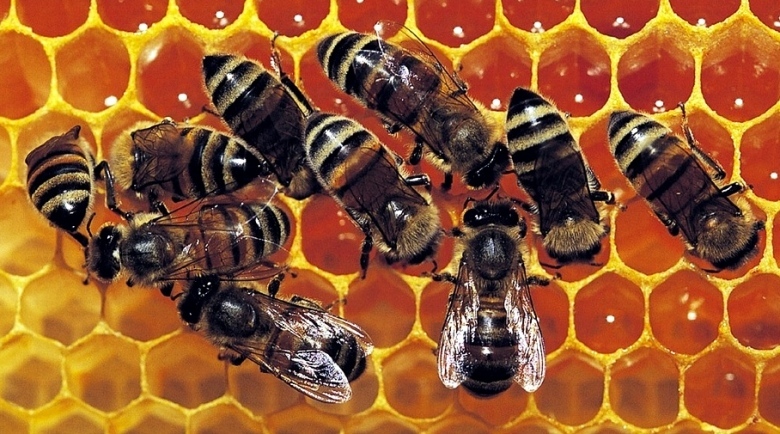 The humble honeybee may not seem very intelligent at first sight, but recent research has shown that it possesses a surprising degree of sophistication that is not expected in an insect brain.

Specifically, the honeybee can understand conceptual relationships such as "same/different" and "above/below" that rely on relationships between objects rather than simply the physical features of objects.

In primates, this ability to understand conceptual relationships is attributed to neuronal activity in the prefrontal cortex (PFC). However, honeybees don't have PFCs. Their brains are so small and lacking in complex brain structures that scientists have traditionally thought that the ability to understand conceptual relationships was beyond them.

Scientists Aurore Avarguès-Weber and Martin Giurfa, both from the University of Toulouse and CNRS in Toulouse, France, have analyzed the implications of the honeybee's ability to understand conceptual relationships, and have published a paper on the subject in a recent issue of Proceedings of the Royal Society B.

"One thing that should be clear from this analysis is that, although it is always a matter of debate what is unique to humans and what to animals, these results show at least something that is not," Giurfa told Phys.org. "While the capacity of conceptual elaboration has been considered (and is still considered) a higher-order capacity proper from primates and other 'highly-evolved' animals (the quotes are ironic in this case), the fact that a 950 000-neuron [honeybee] brain can achieve this kind of task shows that the frontier does not reside there.

"The obvious question would be then, what brings as advantage a 100-billion-neuron [human] brain? Obviously several advantages can be cited: language, for instance. Consciousness, whose existence is a matter of debate and of investigation in animals. And the idea that human brains have perhaps replicated redundant and modifiable modules to solve problems that small brains solve with single microcircuits at a smaller scale."