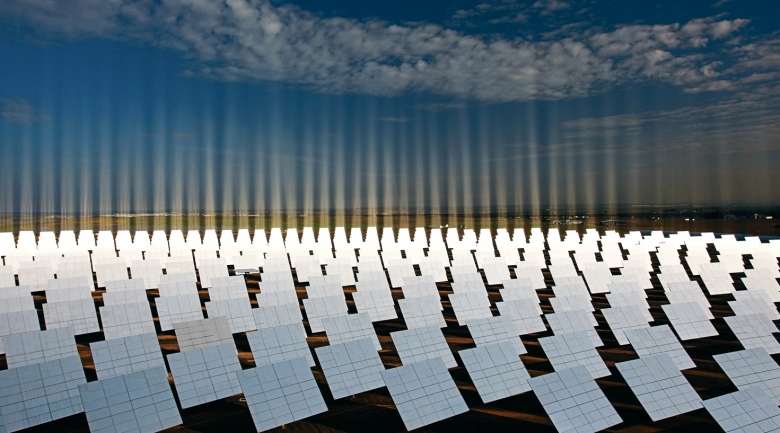 With plenty of sun-drenched, wide open spaces, Australia is an obvious place for large-scale solar power plants. It would seem that large reserves of coal, oil and natural gas, have on the other hand made it difficult for the country to wean itself off fossil fuels. But renewable energy is getting a boost down-under with the announcement of two solar projects, one of which will be the largest solar photovoltaic (PV) plant in the Southern Hemisphere.

The projects include a 53 MW solar plant at Broken Hill and a 102 MW plant at Nyngan, both located in the state of New South Wales (NSW). The Broken Hill plant will cover an area of 200 hectares (294 acres) with 125 ha (309 a) of that devoted to the solar field, while the Nyngan plant will cover an area of 460 ha (1,137 a) with a solar field of 250 ha (618 a).

Both pale in comparison to the Agua Caliente Solar Project currently being built in Arizona that is expected to boast an installed capacity of 397 MW upon its completion in 2014. However, the Nyngan plant will be the largest solar PV plant in Australia and the largest in the Southern Hemisphere when completed.

The Nyngan and Broken Hill plants will produce around 360,000 MW/h of electricity annually, which is sufficient to meet the needs of over 50,000 average NSW homes claims AGL Energy, which secured funding agreements with the Australian Renewable Energy Agency (ARENA) and the New South Wales Government to allow it to move ahead with the projects.

Construction will be handled by First Solar, whose thin-film PV modules will be used for both plants. ARENA and the NSW Government will provide AU$166.7 million (US$149 million) and AU$64.9 million (US$58 million), respectively, towards the projects' total estimated cost of AU$450 million (US$403 million).

The Nyngan project is due to get underway in January 2014 for a mid-2015 completion date, with construction of the Broken Hill plant is set to begin in July 2014 start date for a November 2015 finish.