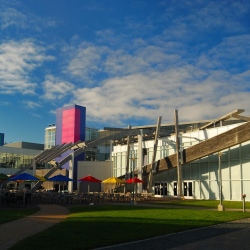 With iOS 8, announced at Apple's WWDC keynote, the iPhone maker has made great strides towards opening up its platform. Now your apps can actually exchange data with each other. Third-party apps can take advantage of TouchID, the fingerprint recognition feature in the iPhone 5S.

Heck, you'll even be able to replace your iPhone's keyboard with a third-party alternative such as Swype or Swiftkey. That sort of flexibility and customization is something only Android users have been able to enjoy in the past.

Coupled with the new iPhones, which are rumored to have bigger screens and should be announced later this year, Apple is clearly targeting many of the capabilities that have historically driven consumers to Android.

So what can Google do now? At this point, it seriously needs to double down on features that will keep Android users from jumping ship. Most of those will likely rely on the company's core services, like ubiquitous Google Now integration.

Additionally, Google needs to step up the security and stability of Android, so it it feels just as solid to developers as iOS. Android isn't in any danger of losing its spot as the biggest mobile OS, but Google also can't just sit back and let Apple steal away its customers.