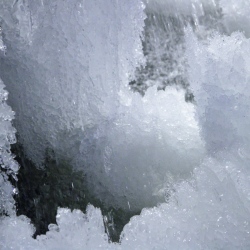 Norwegian researchers report that the sea ice is becoming significantly thinner and more vulnerable. Last month, the annual thaw of the region's floating ice reached the lowest level since satellite monitoring began, more than 30 years ago.

It is thought the scale of the decline may even affect Europe's weather. The melt is set to continue for at least another week – the peak is usually reached in mid-September – while temperatures here remain above freezing.

The Norwegian Polar Institute (NPI) is at the forefront of Arctic research and its international director, Kim Holmen, told the BBC that the speed of the melting was faster than expected.

"It is a greater change than we could even imagine 20 years ago, even 10 years ago," Dr Holmen said.

"And it has taken us by surprise and we must adjust our understanding of the system and we must adjust our science and we must adjust our feelings for the nature around us."

The institute has been deploying its icebreaker, Lance, to research conditions between Svalbard and Greenland – the main route through which ice flows out of the Arctic Ocean.

During a visit to the port, one of the scientists involved, Dr Edmond Hansen, told me he was "amazed" at the size and speed of this year's melt.

"As a scientist, I know that this is unprecedented in at least as much as 1,500 years. It is truly amazing – it is a huge dramatic change in the system," Dr Hansen said.

"This is not some short-lived phenomenon – this is an ongoing trend. You lose more and more ice and it is accelerating – you can just look at the graphs, the observations, and you can see what's happening."