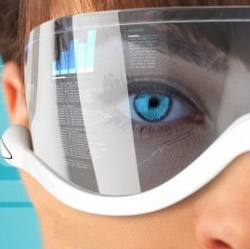 People who've lost sight in one eye can still see with the other, but they lack binocular depth perception.

A pair of augmented reality glasses being built at the University of Yamanashi in Japan artificially introduces a feeling of depth in a person's healthy eye.

The researchers created software that makes use of the twin cameras in a Vuzix Wrap 920AR. When a person puts the glasses on, each camera scopes out the scene that each eye would see. The images are funneled into software on a computer, which combines the perspective of both cameras and creates a "defocus" effect (some objects stay in focus while others stay out of focus), resulting in a feeling of depth. That version of the scene in front of them is projected to the single healthy eye of the wearer.