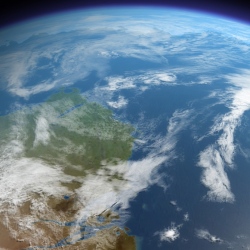 America's classified X-37B spaceplane is probably spying on China, according to a report in Spaceflight magazine.

The unpiloted vehicle was launched into orbit by the US Air Force in March last year and has yet to return to Earth.

The Pentagon has steadfastly refused to discuss its mission but amateur space trackers have noted how its path around the globe is nearly identical to China's spacelab, Tiangong-1.

There is wide speculation that the X-37B is eavesdropping on the laboratory.

"Space-to-space surveillance is a whole new ball game made possible by a finessed group of sensors and sensor suites, which we think the X-37B may be using to maintain a close watch on China's nascent space station," said Spaceflight editor Dr David Baker.

The X-37B, also known as the Orbital Test Vehicle (OTV), looks like a mini space shuttle and can glide back down through the atmosphere to land on a runway, just like Nasa's re-usable manned spaceplane used to do before its retirement last July.