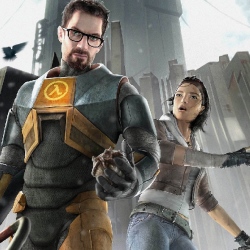 The world's largest online retailer might not seem like the ideal buyer for a site that is all about hardcore gamers livestreaming video to the Web, but this didn't stop Amazon chief executive officer Jeff Bezos from signing the $970 million deal. Twitch is a site that can also bolster Amazon's traditional shopping business as well.

While that might make some sense, most people, even professional industry observers, were mostly shocked and confused by the announcement. "I'm not sure why Amazon bought Twitch," Wedbush Securities research director Michael Pachter told GamesBeat immediately after the deal went through. "Other than [because] Google wanted it."

Google and YouTube definitely wanted Twitch. That makes sense. Google owns YouTube, which is the dominant force in recorded video on the Internet. YouTube and Twitch account for most of the game-related video content on the Web, and that's likely why that agreement, which we previously reported as a done deal, fell through.

New reports appearing today claim that Google and Twitch couldn't agree on a breakup fee if regulators decided that YouTube and Twitch together created a monopoly and violated antitrust rules.