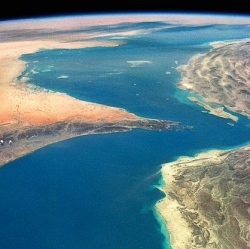 Robots and drones were all over the annual Global Smart Logistics Summit. Several automated guided vehicles, reminiscent of Roomba's robot vacuum cleaners, were moving metal racks stacked with piles of boxes.

There were autonomous drones that can carry a payload of as much as a metric ton to self-driving carts.

Alibaba's founder and executive chairman Jack Ma Yun wants to bring global delivery times for his logistics affiliate to under 72 hours – and he will invest over a hundred billion yuan to achieve this.

China's courier industry has boomed over the last few years in line with the rise of e-commerce, with around 130 million packages now delivered to consumers in China every day – the highest number globally, according to Alibaba's Jack Ma.

Today, the combined market cap of Chinese courier firms SF Express, ZTO Express, STO Express, YTO Express, Best Inc, Yunda Express, and Deppon Logistics adds up to about US$82 billion.

JD.com and Alibaba logistics

JD.com and Alibaba are going down different paths to build their logistics infrastructure.

Alibaba, which traditionally favors an asset-light approach, in 2013 established its logistics affiliate Cainiao, which partners with delivery companies to produce an open source, standardized logistics process that can provide insights to increase productivity.

JD.com decided to build a proprietary logistics network, constructing warehouses and hiring large fleets of deliverymen to service customers across the country in a model similar to Amazon in the US.

Alibaba took a controlling stake in Cainiao last September, it said that it would invest 100 billion yuan (US$15.6 billion) in building an efficient logistics network that would allow packages to be delivered within China in 24 hours, and globally within 72 hours.

As part of its efficiency drive, Cainiao has invested heavily in developing technologies with partners such as Quicktron, deploying automated guided vehicles (AGVs) that can carry shelves stocked with half a metric ton of goods.

Cainiao has also teamed up with state-owned automaker FAW Group Corporation to develop a fleet of autonomous trucks for long-distance delivery, as well as with autonomous driving technology company Robosense to develop "Little G Plus", an unmanned logistics vehicle that is the first to use MEMS (Micro-Electro-Mechanical Systems) solid-state LiDAR (Light detection and ranging) technology for the vehicle's autonomous functions.

The MEMS solid-state LiDAR sensor used by Robosense has a mirror just several millimeters wide to steer a laser beam in various directions and scan the surrounding environment quickly, enabling autonomous cars to "see" pedestrians, landmarks and potential obstacles.

Beihang Unmanned Aircraft System is developing a delivery drone that would potentially be the world's biggest for civilian use, as logistics companies seek ways to deliver cargo to China's more remote regions. The drone, which has a wingspan of nearly 20 meters and can fly 1,500 kilometers, will be able to carry over a metric tonne of cargo.

JD.com's network of 500 warehouses and almost 7,000 delivery and pickup stations means that the company can deliver 90 per cent of orders received either the same day, or within the next day.