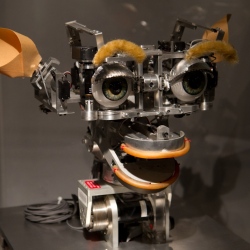 With the world's elderly population growing rapidly, scientists are suggesting that robots could take on some of the burden of providing care, support and – most surprisingly – companionship.

Worldwide 1.5 billion people over the age of 65 are expected to be around in 2050.

In Japan, which has the world's oldest population, Prime Minister Shinzo Abe has allocated 2.39bn yen (£14.3m) in the 2013 budget to develop robots to help with care.

Toyota is developing devices to help carry the elderly or provide mobility support and Toli Corp has created a mat with a wireless sensor that can track and deliver feedback if an elderly person is moving around.

A special robot with 24 fingers has been developed for hair washing and head massage, useful if a person has limited arm movement. It is something Panasonic has also tried out in Japanese hair salons.

The idea of using robotics to care for the elderly is being trialled everywhere from Singapore to Salford.