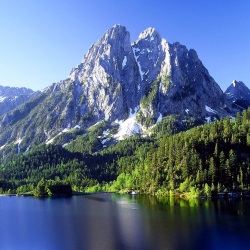 The Skeptical Science survey finding 97% expert consensus on human-caused global warming has drawn an incredible amount of media attention. Hundreds of media stories documented our survey and results. Lead author John Cook and I participated in a number of interviews to discuss the paper, including on Al Jazeera, CNN, and ABC. President Obama even Tweeted about our results to his 31 million followers.
The story has been so popular mainly because our results present a simple but critical message. There is a wide gap between the public awareness and the reality of the expert consensus on human-caused global warming.
Additionally, as John Cook has discussed, research has shown that perception of consensus is linked to support for climate policy. This is true along most of the ideological spectrum – when people are aware of the expert consensus on human-caused global warming, they are more likely to support taking action to solve the problem.
Opponents of climate action have been aware of the powerful influence of the scientific consensus for decades. As far back as 1991, Western Fuels Association launched a $510,000 campaign to "reposition global warming as theory (not fact)" in the public perception. A memo from communications strategist Frank Luntz leaked in 2002 advised Republicans "to continue to make the lack of scientific certainty a primary issue in the debate."