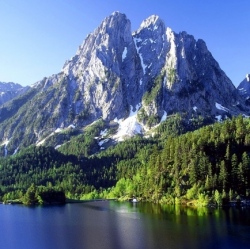 If you start feeling better as spring begins pushing up its tender shoots, you might be living proof of a trend discovered in data from the Survey of the Health of Wisconsin: The more green space in the neighborhood, the happier people reported feeling.

"Across neighborhoods of Wisconsin, from the North Woods to the cities, the results are striking," says Dr. Kristen Malecki, assistant professor of population health sciences at the UW School of Medicine and Public Health. "Higher levels of green space were associated with lower symptoms of anxiety, depression and stress."

The study, published recently in the International Journal of Environmental Research and Public Health, combines mental-health data from the Survey of the Health of Wisconsin (SHOW) and Landsat 5 satellite data from July 2009 that analyzed how much vegetation was present in each of the SHOW census blocks.

About 2,500 Wisconsin residents from 229 neighborhoods answered an assessment that asked them to rate their symptoms of depression, anxiety and stress. The research team, which was also led by Dr. Kirsten Beyer of the Medical College of Wisconsin in Milwaukee, adjusted the results to make sure they weren't confounded by race, age, income level, education, marital status, employment and other factors.