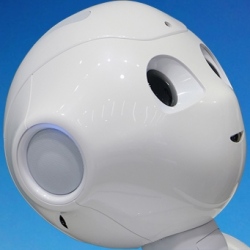 Artificial intelligence, or A.I., has been around since the start of computing and has had many false starts. The reality did not live up to the expectations set by science fiction. Accordingly, for many years, the majority of people's understanding of A.I. was confined to university laboratories, corporate skunk works, research parks, and movies.

A.I. has been on the cusp of the mainstream for the past 40 years, but 2016 is the year it's become a buzzword, incorporating machine learning, natural language processing, voice recognition, and data mining, to name a few technologies. Major corporations are now striving to integrate A.I. into their products.

A new machine learning program from Google wrote its own piano song. Advances in natural language processing are developing at such a quick pace that scheduling a meeting most likely involves cc'ing your personal A.I. assistant. IBM Watson, an A.I.-powered computer, is already able to deliver life-saving medical diagnoses in under 10 minutes.

Soon, students from NYU Tandon and other research universities will be training it to fight hackers. According to data from CB Insights, over 200 A.I.-focused startups received venture capital funding in the first two quarters of 2016 alone, underscoring the massive amounts of time, resources, and capital being funneled into the space.

Three core developments in recent years that have brought on this shift:

Increasing layers of data that used to be analog are now digitized, so all of a sudden there are massive data sets around people and systems, how they're behaving, and what they're doing;

Processors have become faster, and the processing architecture has become far more sophisticated, huge amounts of data can today be analyzed in real time, which can inform immediate action; and

Significant progress has been made in the advancement of the underlying science and ultimate capabilities enabled by A.I.'s various applications.

Because A.I. has the potential to affect so many industries and in so many ways, we think of it as a layer across multiple sectors, rather than a sector in and of itself. Look to the early 2000s and witness how the onset of mobile has touched virtually everything we do today.

We envisage similar results with artificial intelligence in the decades to come. But how will that happen?

Accelerating the commercialization of A.I.

As A.I. advances, so too are the resources and expertise that are becoming available to entrepreneurs and startups seeking to commercialize the technology. Transformative partnerships are sprouting up, such as those between universities and technology/venture industry experts, helping to introduce usable A.I. at a large scale.

From chatbots to data analysis and automation, A.I. startups are developing solutions that make existing processes and businesses more efficient. For instance, look at Salesforce, which, despite making certain aspects of the traditional CRM process easier, is more or less still an analog operation.

New A.I. applications, including machine learning and natural language processing, makes the process more efficient by providing a layer between data and the human interface. As we move toward a text message-based society, this efficiency becomes vital for A.I. business cases.

Chatbots that replace face-to-face interactions in brick-and-mortar stores have become staples of ecommerce websites and have produced great results. Talking with a person converts product page views to sales. Yet a person on the receiving end of a chat is limited to the number of conversations a human can have, and thus the number of customers the company representative can conceivably service at any one time.

Herein lies one of the many opportunities for A.I. and A.I. startups. The more that conversations move to a medium that doesn't require audible interaction, the more that A.I. can be used as a layer to supplement or even replace basic conversations.

The rapid increase in chatbot usage and investors' continued foray into pouring capital into A.I. bot development testify to the fact that people are now ready to interact through text-based messaging.

Wade & Wendy, an emerging A.I. company, is an example of how two different A.I. personalities will soon be able to integrate with job candidates and recruiters, respectively, in order to make the process of recruiting and career advancement more efficient, transparent, and ultimately more human.

This layer of technology gives us a window into what's possible when a machine can take over the repetitive but vital task of servicing potential customers as commerce moves to web and mobile.

While A.I.-powered chatbots, those that use responses that can refer back to context throughout a conversation, are still a few years away, those that provide rule-based responses are already critical assets for businesses large and small.

As with the semiconductor industry in the past and the autonomous car industry today, universities are working more closely than ever with industry partners to make A.I. as transformative as the first silicon wafers were in the 1950s and as impactful as the birth of the iPhone in 2007. And that's an exciting prospect.