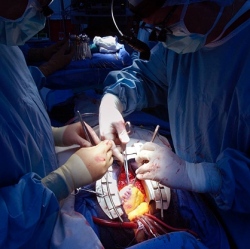 Joe Landolina of the company Suneris and his colleagues were able to seal deep cuts into rats' livers and carotid arteries in tests.

Veti-Gel is said to dramatically speed the body's natural clotting, closing wounds in seconds.

It instantly tells the body, 'OK, stop the bleeding,' but also it starts the healing process.

"I have seen (Veti-Gel) close any size wound that it is applied to," said Landolina. "As long as you can cover it, it can close it," he added.

The substance, a plant-based synthetic form of a compound in blood that triggers clotting, imitates the body's own healing chemistry to rapidly close punctures to soft tissue.