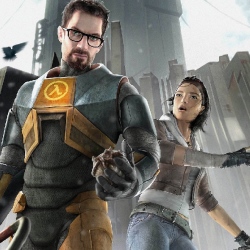 Speaking at the Casual Connect game conference in Seattle, Gabe Newell said the next version of Windows could mean big changes to the PC market.

Many took his comment as a criticism of the changed user interface in Windows 8 as well as its built-in Windows Store.

The Windows Store could dent the success of Valve's own online market, Steam, through which players buy games.

Hat tricks

Mr Newell, who worked for Microsoft for 13 years on Windows, said his company had embraced the open-source software Linux as a "hedging strategy" designed to offset some of the damage Windows 8 was likely to do.

"We want to make it as easy as possible for the 2,500 games on Steam to run on Linux as well," said Mr Newell.

"Windows 8 is a catastrophe for everyone in the PC space."

The arrival of Windows 8 would be likely to drive some PC makers and others out of the business because it put so much pressure on their sales margins, Mr Newell added.

He said the success of Valve, known for its Half Life, Left4Dead and Portal titles, had been down to the open nature of the PC.

"We've been a free rider, and we've been able to benefit from everything that went into PCs and the internet," he told the conference. "And we have to continue to figure out how there will be open platforms."