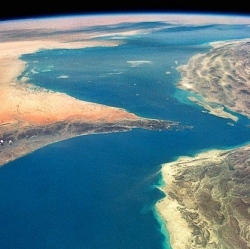 According to updated regulatory documents and recent Aviation Week interviews with the US Air Force Research Laboratory, it can be all but guaranteed that the USAF has begun working with SpaceX to test the feasibility of using the company's planned Starlink satellite internet constellation for military communications purposes.

In early August, SpaceX updated regulatory documents required by the Federal Communications Commission (FCC) for the company to be permitted to experimental test its two prototype Starlink internet satellites, named Tintin A and B.

Launched roughly six months ago as a copassenger on one of SpaceX's own Falcon 9 rockets, the satellite duo has been quietly performing a broad range of tests on orbit, particularly focused on general satellite operations, orbital maneuvering with SpaceX's own custom-built electric propulsion, and – most importantly – the experimental satellites' cutting-edge communications capabilities.