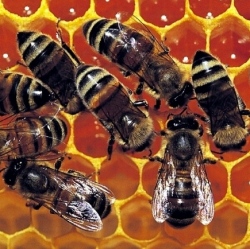 A boom in urban beekeeping could be doing the insects more harm than good, say scientists. Experts warn that dense populations of the bees in areas with few feeding plants adds more pressure to the troubled species.

Honeybee declines have been linked to a lack of suitable habitat so increasing the number of London's hives could exacerbate problems. They urge nature lovers to plant more flowers rather than adding new hives.

The advice of Professor Francis Ratnieks and Dr Karin Alton, from the Laboratory of Apiculture and Social Insects at the University of Sussex is reported in the Society of Biology's magazine The Biologist.

Last year's bad weather caused dramatic losses of 33.8% of Britain's honeybee colonies over the winter. But scientists are yet to agree on what is responsible for the continuing declines of honeybee populations.

Charities and conservationists have been championing beekeeping in response to the statistics. The latest figures from the UK's National Bee Unit show the number of hives in London has more than doubled since 2008 to a total of 3745.