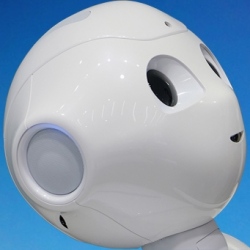 Funding of £17.3m for artificial intelligence and robotics research to be carried out by British universities is to be announced by the government. It is part of the government's digital strategy, to be published by Culture Secretary Karen Bradley on Wednesday. Accenturer estimated that AI could contribute up to £654bn to the UK economy by 2035.

But the government was criticised last year for its support of the UK tech scene. As part of the new digital strategy, computer scientist Prof Dame Wendy Hall and tech CEO Jerome Pesenti, former chief data scientist at IBM, have been asked to review the UK's artificial intelligence sector.

"Our scientists, researchers and entrepreneurs are at the forefront of the development of artificial intelligence and I'm looking forward to exploring how industry and government can work together to support the technology in the UK," said Dame Wendy.

Mrs Bradley described the UK as a pioneer of artificial intelligence.

"Backing our thriving digital economy to expand and grow by putting the best foundations in place to develop new technology is a vital part of this government's plan to build a modern, dynamic and global trading nation," she said.