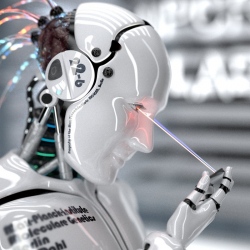 Toyota has unveiled a new assistant robot designed to help the disabled live more independently. Called the Human Support Robot (HSR), it represents the latest initiative in Toyota's Partner Robot program and is intended to help out around the home by fetching things, opening curtains, and picking up objects that have fallen to the floor.

The HSR can be controlled using a simple graphical user interface via tablet PC. It can also wear a tablet atop its head, which would allow caregivers and family members to communicate with the robot's owner over Skype or other services. But unlike recent telepresence robots including the recently announced iRobot RP-VITA, the HSR has an arm and gripper for doing the simple tasks we often take for granted.

The robot is able to pick stuff up from the floor or atop tables and high counters thanks to its telescopic body, which gives it a height of 2.7 to 4.3 feet, and an arm length of 2.5 feet. When not in use, the robot's single arm is designed to fold in tightly to reduce its body's overall diameter to just 14.5 inches (an important factor when maneuvering in compact Japanese homes). The robot's arm uses little power and moves slowly to prevent accidents and injuries.