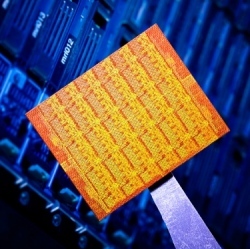 Last week, a throng of computer geeks descended on snowy Utah to show off, admire, and debate the future of the fastest computers on the planet. And of course, to find out which Boolean monster rules the roost. For the second time in 2012, a different supercomputer took top honors: Titan.

Titan is a Cray XK7 residing in Oak Ridge National Laboratory (ORNL). According to the November Top500 list of most powerful supercomputers, the system notched 17.59 petaFLOP/s (floating point operations per second) as measured by the Linpack Benchmark. The previous mark of 16.32 petaFLOP/s was held by Lawrence Livermore Laboratory's BlueGene/Q system, Sequoia.

While Titan is a new name, it is not an entirely new computer.

The system is a souped up version of ORNL's previous Top500 list champ, Jaguar (November 2009 to June 2010). Although Titan occupies the same footprint and consumes about the same power as Jaguar, it is almost ten times faster. A mark that won Titan third on the Green500 list of most power efficient machines.

And that's really a key point. Measuring and comparing speed is exciting, but the future of supercomputing depends on efficiency gains too.

In the last decade or so, engineers have increased power by building massively parallel systems. That is, engineers have been linking more and more processors and stuffing them into tighter and tighter spaces.