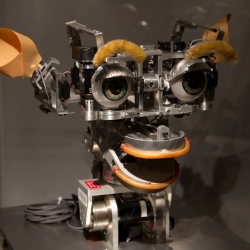 The Shanghai arm of Fanuc, which dominates the global market for industrial robotics, almost doubled sales every year until cooling somewhat following the 2009 global financial crisis and outbreak of the 2011 earthquake and tsunami in Japan. They still still managed to achieve close to 20 per cent sales growth in China last year. Shanghai-Fanuc Robotics is a the Chinese joint venture with Japanese giant Fanuc. The firm sold about 4,000 robots in China, up 18 per cent on the 3,400 it sold in 2011.

The International Federation of Robotics says the world's robot industry developed at its fastest rate ever in 2011 with global sales up 37 per cent year on year to 165,000. Sales in China jumped 50.7 per cent to reach 22,600. By next year, China will surpass other countries to become the top market for robots worldwide.

State leaders have called on businesses to upgrade technology to boost their competitiveness, as the country's role as the world's manufacturing centre is shaken by rivals in emerging markets with a growing, cheaper labour supply.

Former World Bank chief economist Justin Lin predicts that the average monthly wage in China's manufacturing sector may rise to nearly US$1,000 (HK$7,760) by the end of this decade from US$350 in 2010. The increase is caused, in part, by yuan appreciation and government policies intended to boost personal income.

The rapidly rising salaries of factory workers could see China lose up to 85 million manufacturing jobs to other countries in the region, Lin says. But analysts say robots may prove the saviour – or at least delay the process.