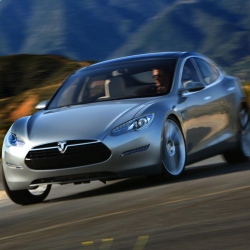 Tesla has unveiled its latest electric car, the Model X, at its California Design Studios. Tesla CEO Elon Musk said the prototype crossover vehicle on display was the company's most advanced to appear at a launch so is unlikely to differ significantly from the vehicle that will be put into production. The vehicle will be available in both rear- and four-wheel-drive versions, with the latter reportedly able to accelerate from 0 – 60 mph (96.5 km/h) in around 4.4 seconds courtesy of two independent electric motors – one on the rear axle and the other in the "engine bay."

The prototype crossover vehicle on display to assembled media is based on the same platform as Tesla's Model S but is slightly heavier. As a result the Model X's range is expected to be around 10 percent less than the Model S, which has a range of 160 miles extendable to 230 or 300 miles with a battery pack upgrade – options that will also be available for the Model X.

As suggested in a teaser image tweeted by Tesla CEO Elon Musk earlier in the day, the Model X's new "falcon-wing doors" are two-piece articulated gull wing doors. But instead of providing access to the front seats, they make access easier for those in the second and third row seats – that's right, the Model X has three rows of seating, all front facing, and is designed to seat seven adults with cargo room in the rear and front trunks. In fact access will be much easier as the doors should provide enough room for anyone not tall enough to be part of a professional basketball team to stand up in the car.