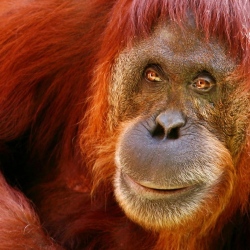 The social brain theory – that animals in large social groups have bigger brains – has now been supported by a computer model. For animals in smaller social groups, the cost of having a large brain outweighs the benefits. Scientists used a simulation modelling technique to confirm that large social groups are only possible through sophisticated communication.

The study is published in Proceedings of the Royal Society B.

The human brain is a very costly organ which consumes a lot of energy. Animals that live in small social groups could therefore be at a disadvantage if they had large brains taking up processing power that could better be used elsewhere. A team at Oxford University has now looked at the cognitive demands of making social decisions using a method called agent-based modelling, which models simplified representations of reality.

As expected, they found that more complex social decisions take up more 'brain' power. The cognitive complexity of language evolved as social groups became larger and more complex, said lead author of the study Tamas David-Barrett from the University of Oxford.

He explained that a group of five is an ideal number to coordinate an event such as a hunt, but as the group size increases, the coordination involved would become increasingly complex.

"This paper shows what has been hypothesized since the late 1980s – that to live in a large group you need to have a large brain, and to live in a really large group like humans do, you need language.