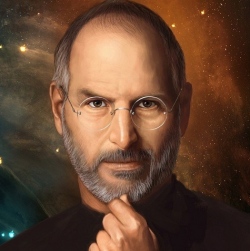 Apple's senior vice president of Internet software and services Eddy Cue said, in an email revealed today, that he believes there will be a market for 7-inch tablets. What's more, the late Apple chief executive Steve Jobs agreed with him.

The email was revealed during a patent infringement case between Apple and Samsung in San Jose, Calif. today. Apple is suing Samsung over allegedly copying the iPhone and iPad in a number of its smartphones and tablets, particularly the Galaxy line of devices. While discussing tablets, Samsung counsel called up the internal Apple e-mail from Cue, which reads:

"I believe there will be a 7-inch market and we should do one. I expressed this to Steve [Jobs] several times since Thanksgiving and he seemed very receptive the last time. I found email, books, Facebook and video very compelling on a 7-inch. Web browsing is definitely the weakest point, but still useable."

There has been much speculation regarding a 7-inch tablet from Apple, though nothing has been confirmed. The company will have a lot of competition in the 7-inch market, particularly from e-reader type tablets, such as the Kindle Fire. Most recently the mini-iPad was rumored to be released during a fall Apple event that may also introduce the latest iPhone.