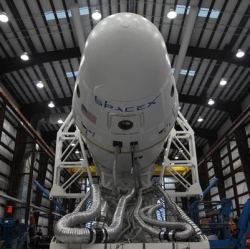 SpaceX announced today that it has secured the launch contract for the largest space program in Canada's history.
While wags might wonder how big the biggest space program ever for the U.S.'s northern neighbor could possibly be, the Space Shuttle's moveable arm is designed and built in Canada, and the world's second-largest country by land mass has looked to satellites to provide communication capabilities for bringing its dispersed population together since 1962, when it became the third country to ever place a satellite in orbit.
The new SpaceX contract, the company's second with Canadian space company MacDonald, Dettwiler, and Associates, is to transport three satellites to orbit in 2018.

"SpaceX appreciates MDA's confidence in our ability to safely and reliably transport their satellites," Gwynne Shotwell, SpaceX's president and chief operating officer, said in a statement. "We hope this agreement is the second of many with MDA."
The three satellites are part of Canada's RADARSAT Constellation Mission, which is designed to provide maritime surveillance, disaster management, and ecosystem monitoring capabilities. With the enhanced capability, Canada will be able to monitor polar ice conditions, oil pills, ship movements, forest fires, wetlands and coastal changes, and more.
Together, the three satellites will offer complete daily coverage of Canada's 3,855,100 square miles of territory.
SpaceX said the satellites will launch on the company's Falcon 9 rocket. The company also has a Dragon spaceship, which recently delivered ice cream and other supplies to the International Space Station, and is testing multiple other types of rockets, including a reusable self-landing Grasshopper rocket and a modified Falcon 9-R that CEO Elon Musk says has enough thrust to "lift a skyscraper."