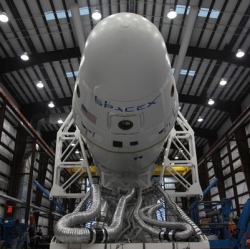 SpaceX expects to produce at least 180 news rocket engines this year, with that number set to increase to 240 in the next year, and 400 in 2017, Gwynne Shotwell told Reuters in an interview late last week. Spacex is on track to complete 13 launches this year.

The Air Force expects to certify SpaceX by June to launch some military and intelligence satellites using its Falcon 9 rockets. Currently, those satellites can only be launched by ULA, a joint venture of Lockheed Martin Corp and Boeing Co, the two largest U.S. arms makers.

SpaceX has already launched three times this year and is gearing up for a fourth launch on March 21, followed by a cargo resupply mission for NASA in early April. The company also has a prototype crew capsule at Cape Canaveral for a test flight to prove that a spaceship carrying astronauts could safely abort a mission if a rocket blew up on the launch pad, she said.

Spacex is making "great progress" on its 27-engine Falcon Heavy rocket, and planned to test it later this year at a refurbished space shuttle launch pad at Kennedy Space Center in Florida.