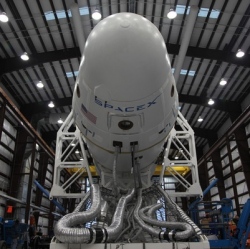 The future of spaceflight will be powered by ion engines and warp drives, right? Not just yet. There is still some uncharted territory in the world of liquid-fueled rockets, which have been powering spacecraft since the 50s, and SpaceX is testing the waters with its new Raptor engine.

It could be the engine that, if Elon Musk gets his wish, propels the first colonists to Mars.

Right now the Raptor looks like it will be developed to deliver 1 million pounds of thrust at launch, which is certainly a step up from SpaceX's existing engines, SpaceX's Merlin 1D delivers about 147,000 pounds at launch.

The Raptor will even beat out the Space Shuttle's main engine, which delivered 375,000 pounds of thrust at launch. In other words, the Raptor is expected to be a huge engine, dwarfed only by the F-1 engine powering the gigantic Saturn V rocket.

Can SpaceX build a rocket engine to rival the giants? The firm has had good luck developing rocket engines in the past. Its Merlin 1D engine, which uses the traditional mixture of kerosene and liquid oxygen, has the highest thrust-to-weight ratio of any engine currently in use. But it still uses the same basic technology of all liquid rocket engines that came before it.