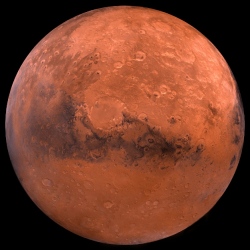 Elon Musk will present his architecture for Mars colonization at the International Astronautical Congress conference in September. SpaceX will send an unmanned mission to Mars using the Dragon V2, in 2018 and launch a rocket to Mars every 26 months. The plan is for the manned Mars mission in 2024.

The plan for 2018 is for a sample return Mars rover to be delivered to the Martian surface while also testing techniques to enter the Martian atmosphere with equipment a human crew could eventually use.

On 27 April 2016 SpaceX announced that they would be going forward with the uncrewed mission for a 2018 launch and NASA will be providing technical support. NASA expects to spend "on the order of $30 million" helping SpaceX send the capsule to Mars.

A modified Dragon V2 capsule may perform all the necessary entry, descent and landing (EDL) functions in order to deliver payloads of 1 tonne (2,200 lb) or more to the Martian surface without using a parachute; the use of parachutes is not feasible without significant vehicle modifications.

It is calculated that the capsule's own aerodynamic drag may slow it sufficiently for the remainder of descent to be within the capability of the SuperDraco retro-propulsion thrusters. 1900 kg of propellant would provide the Δv required for soft landing.

This approach should make it possible to land the capsule at much higher Martian elevations than could be done if a parachute was used, and with 10 km (6.2 mi) landing accuracy. The engineering team continues developing options for payload integration with the Dragon capsule. Potential landing sites would be polar or mid-latitude sites with proven near-surface ice.

A study of a potential 2021 Red Dragon mission suggested that it could offer a low-cost way for NASA to achieve a Mars sample return for study. The Red Dragon capsule would be equipped with the system needed to return samples gathered on Mars, including a Mars Ascent Vehicle (MAV), an Earth Return Vehicle (ERV), and hardware to transfer a sample collected in a previously landed rover mission, such as NASA's planned Mars 2020 rover, to the ERV. ERV would transfer the samples to high Earth orbit, where a separate future mission would pick up the samples and de-orbit to Earth.