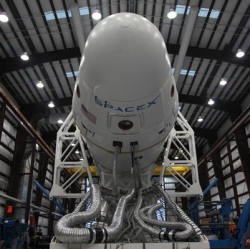 SpaceX's Falcon 9 rocket blasted off Friday to send an unmanned Dragon cargo capsule on its quickest trip yet to the International Space Station, but the company reported a problem with the Dragon in orbit.
The Falcon 9 made a problem-free ascent from its launch pad at Cape Canaveral Air Force Station in Florida at 10:10 a.m. ET. A half-hour after launch, SpaceX's billionaire founder, Elon Musk, said in a Twitter update that controllers were looking into a technical issue involving the capsule's thrusters.
"Issue with Dragon thruster pods," Musk wrote. "System inhibiting three of four [pods] from initializing. About to command inhibit override."

The thruster snag forced a delay in deploying the Dragon's power-generating solar arrays. "Holding on solar array deployment until at least two thruster pods are active," Musk said in a follow-up tweet. The Dragon can remain on battery power for 18 hours after launch.
Musk said the command to override the Dragon's onboard system and initialize the thruster pods was being issued during the capsule's pass over a ground station in Australia. A news briefing is planned for later Friday to discuss the status of what's expected to be a three-week resupply mission.
This is the third Dragon flight to the station: The first one, which took place last May, was a demonstration flight aimed at proving that California-based SpaceX could safely reach the space station, get hooked up, and then descend again to a splashdown. Last October's second flight marked the first of what's expected to be 12 resupply missions to the station, under the terms of a $1.6 billion contract with NASA.