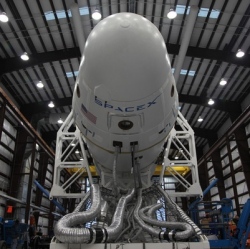 Chalk up another successful mission for the private space company SpaceX.
The company's Dragon capsule successfully docked with the International Space Station at 8:56 a.m. Eastern this morning, following a launch issues with the craft's thrusters on Friday.
According to an update from NASA this morning, the hatch between the Dragon and the Harmony module on the ISS will open tomorrow. The Dragon carries supplies for the astronauts aboard the space station, which will be used for research around the growth of plant seedlings in microgravity, how metal mixtures solidify, and more. The capsule will stay docked with the ISS for 22 days, and it's currently scheduled to return to Earth on March 25.
It's the second contracted flight for NASA by SpaceX, after delivering supplies to the ISS back in October 2012. An earlier test mission in May 2012 proved the viability of SpaceX's technology to resupply the ISS, and it led to 12 mission contract with NASA worth $1.6 billion. This was the first mission where SpaceX encountered some sort of malfunction, but the company's quick response is a good sign for its ability to handle any future issues that may arise.