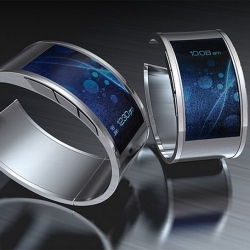 An electronic paper watch designed by a Canadian entrepreneur to work alongside smartphones has raised more than $3m (£1.8m; 2.2m euros) in less than a week on net funding site Kickstarter.

It is a record for the site which crowdsources cash to fund start-ups.

Eric Migicovsky initially sought $10,000 over a five-week period but the total, six days in, now stands at $3.4m.

It is the fifth Kickstarter project to make more than $1m.

The Pebble watch reached the $1m mark in 28 hours. The firm behind the device, which has been designing smartwatches for three years, said that it was "blown away" by the support.

The watch has an electronic paper screen and connects via Bluetooth with iPhones or Android powered devices to allow users to customise the watch face and download apps.

The watch can display distance and speed for cyclists and runners The display stays on at all times and is backlit for night viewing. The firm says that the rechargeable battery will last a week.

It can display distance and speed for runners and cyclists, control a smartphone's music, and show emails, messages and reminders.

The watch will go head to head with an Android-compatible device released in April by electronic giant Sony Corp. The Sony Smartwatch costs $149.99.

New engineers

Mr Migicovsky said that he turned to Kickstarter after failing to raise interest among more traditional Silicon Valley investors.

"We tried to raise money, it was impossible. No-one really wants to fund hardware projects right now, except for the people that want to buy them," he said.

He said he would use the cash injection to boost Pebble's team of six by several more engineers to develop new features for the watches.

The cash injection should see even more features for the watch Under the Kickstarter model, a project's developer must set a deadline for reaching its funding goal.

If time runs out, no money changes hands which Kickstarter says protects both parties as buyers do not pay until developers have adequate funds to develop their project.

The site's first $1m project was Double Fine Adventure, a San Francisco-based video games developer.

By the campaign's end it had reached a total of $3.4m from more than 87,000 supporters for its point-and-click adventure game, making it the first games firm to be bankrolled by internet-pledged cash.

Pebble looks set to raise a lot more. The watch will go on sale to the general public at about $150, according to the firm, although those pledging cash will get discounts.