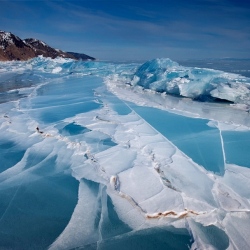 Evidence from Siberian caves suggests that a global temperature rise of 1.5C could see permafrost thaw over a large area of Siberia. A study shows that more than a trillion tonnes of the greenhouse gases CO2 and methane could be released into the atmosphere as a result. An international team has published details in the journal Science.

The evidence comes from analysis of stalactites and stalagmites in caves along the "permafrost frontier".

This is where ground begins to be permanently frozen in layers that can be tens to hundreds of metres thick. Stalactites and stalagmites only grow when liquid rainwater and snowmelt drip into the caves.

So these formations record 500,000 years of changing permafrost conditions – including warmer periods similar to the climate of today. The records from a particularly warm period called Marine Isotopic Stage 11, which occurred around 400,000 years ago, suggest that warming of 1.5C compared to the present is enough to cause substantial thawing of permafrost – even in areas far north from its present-day southern limit.

"The stalactites and stalagmites from these caves are a way of looking back in time to see how warm periods similar to our modern climate affect how far permafrost extends across Siberia," said Dr Anton Vaks from the University of Oxford.

"As permafrost covers 24% of the land surface of the Northern Hemisphere, significant thawing could affect vast areas and release (billions of tonnes) of carbon."

He added: "'This has huge implications for ecosystems in the region, and for aspects of the human environment. "For instance, natural gas facilities in the region, as well as power lines, roads, railways and buildings are all built on permafrost and are vulnerable to thawing. Such a thaw could damage this infrastructure with obvious economic implications."