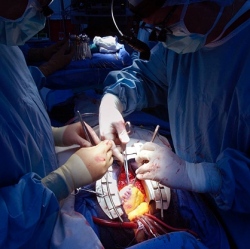 The Scandu Scout became the most funded campaign in Indiegogo history today. The health-scanning device raised $1.37 million so far, with still nine days left in the campaign. It surpassed the "Let's Build a Goddamn Tesla Museum" campaign, which held the existing Indiegogo record of $1,370,461 in total funding.
Scanadu Scout is a sensor that people hold to their temple. In less than 10 seconds, it will collect data on vital signs, including pulse, heart rate, respiratory rate, blood pressure, temperature, and even emotional stress. Billed as the "the biggest innovation in home medicine since the invention of the thermometer," Scout gives people unprecedented access to information about their bodies outside of a doctor's office.
A mobile app tracks all the data collected through these devices, and it offers a personal health feed to monitor vitals signs and identify patterns over time. By "sending your smartphone to med school," mobile devices become a powerful tool to keep people in tune with their bodies.
"People can get access information about health and connect to each other about health, but the piece that is missing is that people can't get information about their own body," said founder Walter De Brouwer in an interview with VentureBeat. "By getting precision diagnostics into the hands of people, this can enable them to get early detection and to inform their conversations with their doctor in the ways that haven't been possible."
De Brouwer said that the "center of gravity" in the American health care system is moving out of hospitals and into outpatient care. Tools like this can lead to better, smarter care for more people at a fraction of the time and cost. Rather than scheduling doctors appointments when you are unsure of your own health (or that of your child's), Scout gathers more facts before taking the time to visit a clinic.