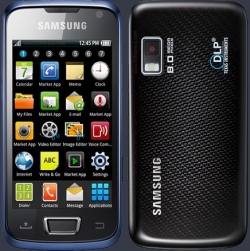 Samsung kicked off its Mobile World Congress presence by revealing two new devices this morning: a larger 10.1-inch version of the Galaxy Tab 2 Android tablet, and the intriguing/baffling Galaxy Beam, an Android smartphone with a built-in projector.

Given Samsung's propensity to delivering tablets of many different sizes, the larger Galaxy Tab 2 doesn't come as much as a surprise. The Galaxy Beam, on the other hand, is a bit of a head scratcher.

The Beam is a traditional Android smartphone, aside from the projector aspect. It has a 4-inch display, a 1 gigahertz dual-core processor, and runs Android 2.3. Honestly, it sounds like a phone that would have been announced last year, not something that Samsung would save for the biggest mobile event of 2012.

But the Galaxy Beam's real claim to fame is its powerful built-in projector, which Samsung says can project HD up to 50-inches wide at 15 lumens. You'll be able to project photos, videos, and games using a special Samsung app. Like the Galaxy Note, the Beam appears to be a very niche device, but it's the first step towards Samsung bringing projectors to its future mainstream devices (it'd certainly be a nice addition to next year's Galaxy S lineup).

The 10.1-inch version of the Galaxy Tab 2 is clearly Samsung's volley to stay competitive with the iPad 3, which could be announced as soon as next week. It sports a 1280 by 800 10.1-inch display, Android 3.0, and 1 gigabyte of RAM. It's only 9.7 millimeters thick and will come in 16 gigabyte and 32GB varieties.

Samsung is also expected to announce a 10-inch version of the Galaxy Note this week, so it'll be interesting to see how it fits into the company's tablet lineup. I found the Note to be iffy as a phone, but the S Pen stylus has a lot of potential in larger screens. It's certainly one way for Samsung to stay a step ahead of the iPad 3.