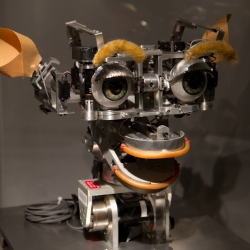 Meet James. He's a barman with a cheery disposition, is quick with your order, and doesn't tolerate queue jumping. He's also a one-armed robot with a tablet for a head. But the really curious thing about James is that he can read your body language to find out whether or not you want to order a drink.

The Joint Action in Multimodal Embodied Systems (James) robot is an EU-funded project that started in 2011. As part of the project, Professor Dr. Jan de Ruiter of the Psycholinguistics Research Group at Germany's Bielefeld University along with partners Foundation for Research and Technology-Hellas in Crete, Fortiss in Munich, and the University of Edinburgh set out to solve the problem of how to employ robots as bartenders in a manner that humans would readily accept.

There have been any number of robot bartenders built in recent years. Many have some cool moves, but ordering drinks from one often involves a bit of a learning curve as the patron figures out how to place an order using a touchscreen or smartphone. Unfortunately, pub goers tend to be a bit single minded about getting their hands on a pint and don't like complications.

The problem of robot bartenders is simple: Robots don't like the real world. They like things to be tidy, orderly, and predictable – preferably with optical codes printed on everything. However, a pub is about as real as the world gets. It's crowded, noisy, dimly lit, with music and conversation everywhere.

It's relatively easy to make a robot that can mix drinks. It's another matter how to tell the robot what you want to drink. And it's another order of magnitude for the robot to figure out whether or not you want a drink in the first place, and another again to get it to do so in a pub.

Patrons don't like dealing with touch screens or other interfaces. What they want is a robot that really can replace a bartender, so as the drink ordering process doesn't change as they swap over. The trouble is, bar staff are very good at cutting through all the confusion and finding out who wants to order a drink and who doesn't. What is more remarkable is that they do so using cues that neither they or the patrons are consciously aware of.