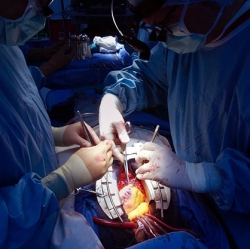 Red meat has been linked to cancer for decades, with research suggesting that eating large amounts of pork, beef or lamb raises the risk of deadly tumours. But for the first time scientists think they know what is causing the effect. The body, it seems, views red meat as a foreign invader and sparks a toxic immune response.

Researchers have always been puzzled about how other mammals could eat a diet high in red meat without any adverse health consequences. Now they have discovered that pork, beef and lamb contains a sugar which is naturally produced by other carnivores but not humans. It means that when humans eat red meat, the body triggers an immune response to the foreign sugar, producing antibodies which spark inflammation, and eventually cancer.

In other carnivores the immune system does not kick in, because the sugar, called Neu5Gc, is already in the body. Scientists at the University of California proved that mice which were genetically engineered so they did not produce Neu5Gc naturally developed tumours when they were fed the sugar.