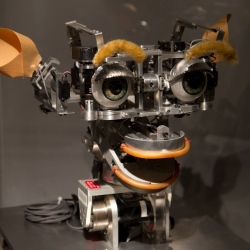 Who wouldn't want a Raspbery Pi-powered open source bartending that you control with your phone or tablet?
For at least 353 people who have tossed $134,551 in tip money towards the project on Kickstarter, that question has an easy answer: everyone. And with a project goal of just a little more, $135,000, it seems certain that "Bartendro" will see the bright lights of night-time parties.
What does it do?
Bartendro is a "precision cocktail dispensing robot," the project founders say, that "makes tasty drinks quickly and repeatably without the mess." Plus, it's portable and can be taken to events and parties.
But, assembling one does require some hacker cojones.
A tiny Raspberry Pi serves as the brain, operating up to 15 dispensers, which essentially suck booze out of whatever bottles you've got handy, then mix it to your specifications. The specifications are input via any WiFi-equipped smartphone or tablet, which you can mount on Bartendro's frame for easy access and super-1337 status.
Assuming you have not been overcome by the fruits of Bartendro's labor, the entire device disassembles and cleans up in about five minutes, its masters promise.