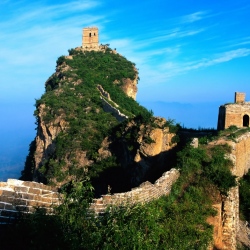 Southern Chinese on average have lived at least five years longer than their northern counterparts in recent decades because of the destructive health effects of pollution from the widespread use of coal in the north, according to a study released Monday by a prominent American science journal.

The study, which appears in the Proceedings of the National Academy of Sciences, was conducted by an American, an Israeli and two Chinese scholars and was based on analyses of health and pollution data collected by official Chinese sources from 1981 to 2001.

The results provide a new assessment of the enormous cost of China's environmental degradation, which in the north is partly a result of the emissions of deadly pollutants from coal-driven energy generation. The researchers project that the 500 million Chinese who live north of the Huai River will lose 2.5 billion years of life expectancy in total because of outdoor air pollution.

"It highlights that in developing countries there's a trade-off in increasing incomes today and protecting public health and environmental quality," said the American member of the research team, Michael Greenstone, a professor of environmental economics at the Massachusetts Institute of Technology. "And it highlights the fact that the public health costs are larger than we had thought."

Mr. Greenstone said in a telephone interview that another surprising result of the study was that the higher mortality rates were found across all age groups.

The study is the first measuring this kind of impact that relies purely on data collected within China. Its conclusions are based on analyses of population groups living in areas north and south of the Huai River. The Chinese government has for years maintained a policy of free coal for boilers to generate winter heating north of the river, which runs parallel to and between the Yellow and Yangtze Rivers. That policy and the ubiquity of northern coal-fired factories have contributed to the vast gap between the coal pollutants emitted in north and south.