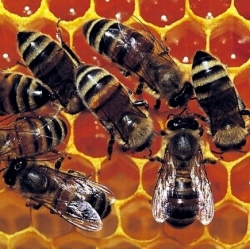 The government has made an agreement with landowners including Network Rail to restore bee-friendly habitat throughout England. It is part of a 10-year National Pollinator Strategy. It includes countryside stewardship schemes, worth a total of £900m, to provide financial incentives for farmers to plant pollinator-friendly crops and let meadows grow.

The plan is announced on Tuesday by Environment Secretary Elizabeth Truss. It will be the key policy announcement of her first major speech as environment secretary. The coalition has been criticised for some of its actions on the natural environment, including the controversial badger cull and a plan to sell off forests, which was ultimately scrapped. So Ms Truss will look to move the debate forward. She will say in her keynote speech that "our health, our jobs and our future prosperity and security depend on nature in this country".

Ms Truss told BBC News that the new strategy was "all about helping our pollinators survive and thrive". Farmland, which covers most of England's land area, is the main focus. "Pollinators are really important for food and farming, for our rural economy, which is worth £210bn per year," she told BBC News.