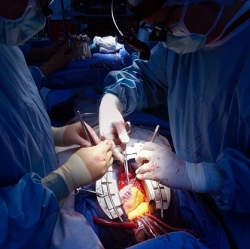 A survivor of a serious motorbike accident has had pioneering surgery to reconstruct his face using a series of 3D printed parts. Stephen Power from Cardiff is thought to be one of the first trauma patients in the world to have 3D printing used at every stage of the procedure.

Doctors at Morriston Hospital, Swansea, had to break his cheekbones again before rebuilding his face. Mr Power said the operation had been "life changing". The UK has become one of the world's pioneers in using 3D technology in surgery, with advances also being made by teams in London and Newcastle.

While printed implants have previously been used to help correct congenital conditions, this operation used custom printed models, guides, plates and implants to repair impact injuries months after they were sustained. Despite wearing a crash helmet Mr Power, 29, suffered multiple trauma injuries in an accident in 2012, which left him in hospital for four months.