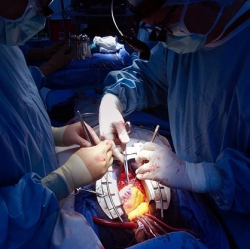 Darek Fidyka, who was paralysed from the chest down in a knife attack in 2010, can now walk using a frame. The treatment, a world first, was carried out by surgeons in Poland in collaboration with scientists in London. Details of the research are published in the journal Cell Transplantation.

BBC One's Panorama programme had unique access to the project and spent a year charting the patient's rehabilitation. Darek Fidyka, 40, from Poland, was paralysed after being stabbed repeatedly in the back in the 2010 attack. He said walking again – with the support of a frame – was "an incredible feeling", adding: "When you can't feel almost half your body, you are helpless, but when it starts coming back it's like you were born again."

Prof Geoff Raisman, chair of neural regeneration at University College London's Institute of Neurology, led the UK research team. He said what had been achieved was "more impressive than man walking on the moon".